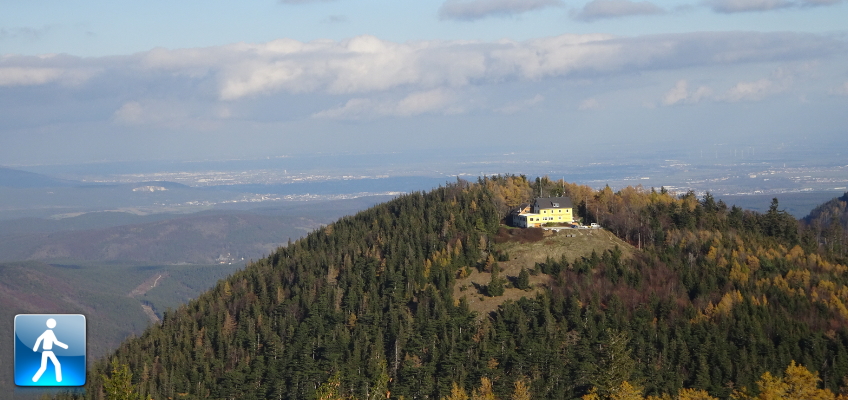 Walk up to the viewing platform of Hohe Wand before or after a great meal at Waldeggerhaus
The tour starts at the parking Waldeggerhaus and first follows the hiking trail down towards the main road. From there, the tour follows the main road westwards. After a few meters, the tour then turns right (north) and follows the forest road up towards the viewing platform (tower), offering an amazing surround view on the area. The tour then continues following the trail westwards, entering the zoo. The round-trip through the zoo leads back to the road used for the ascent which is then followed back to Waldeggerhaus.


Tour Description
00:00
Start at the parking Waldeggerhaus (GPS: 47.843635, 16.028701) and follow the hiking trail southwards towards the main road.
The parking is only reachable via a toll-road. The current toll is 5€ per car and 2€ per person.
00:05
At the crossing with the main road, turn right and follow the street westwards.
00:15
At the crossing (after the clearing), turn right and follow the forest road northwards towards the viewing platform.
00:16
At the crossing, keep right and continue following the forest road.
00:17
After the playground, do an U-turn and ascent the forest road towards the viewing platform.
00:20
U-turn right and follow the trail towards the tower (viewing platform). Mount the tower and enjoy the impressive view from there.
00:25
Descent back and continue following the hiking trail westwards.
00:30
Enter the zoo and follow the trail through it. The trail will bring you back to the main street and the parking.
00:35
Well deserved break ( at Naturparkstüberl.
00:55
Follow the trail along the zoo eastwards.
00:57
At the feeding place, get in contact with the animals (they can be hand-fed with seeds that can be purchased for 1€ at the selling machine).
01:05
Continue following the hiking trail eastwards which brings you back to the main street.
01:10
Follow the street back to the Waldeggerhaus.
01:25
Back at the Waldeggerhaus, end of the tour.


At a glance
Level

easy

Technique
Shape / Fitness
Experience
Scenery
Best time in the year

Jan

Feb

Mar

Apr

May

Jun

Jul

Aug

Sep

Oct

Nov

Dec
General Tour Data
Area:
Wiener Alpen, Lower Austria, Austria
Distance:
4km
Ascent:
173m (0h 15min)
Descent:
173m (0h 15min)
Highest Pt:
1035m
Lowest Pt:
942m
Duration:
1h 00min (without breaks)
1h 20min (with breaks)
Stop/Rest:
Waldeggerhaus (1002m)
Equipment:
Comfortable hiking shoes
Sun & Weather protection
Camera
Tour Diary