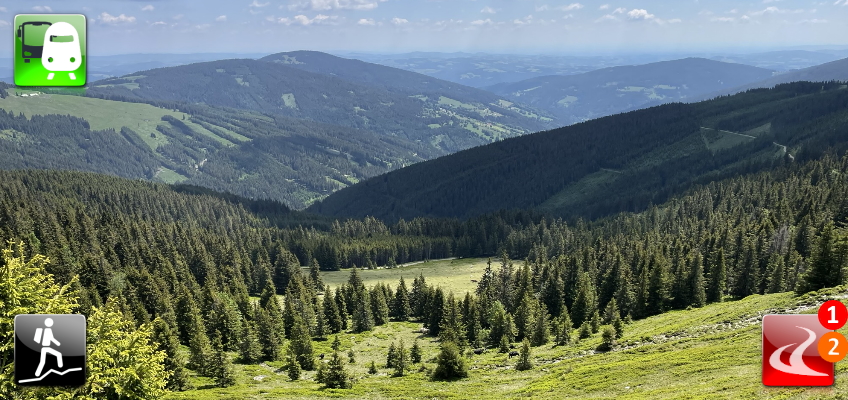 Stage 1 & 2 of the Alpannonia® long distance trail from Mönichkirchen up to Hochwechsel and Semmering (reverse)
The Alpannonia® long distance trail combines in up to 7 stages a tour from the eastern alps in Austria towards the "pannonian lowlands" in Hungary. The entire trail is 125 km long and 3.800 meters in ascent. It is normally done in 7 days, starting in Fischbach (AT) and ending in Köszeg (HU). It also has an alternate starting point from Semmering.
For more information visit www.alpannonia.at.

The tour starts at the bus station Mönichkirchen (Hotel Thier) and follows the marked trail using streets, trails and paths westwards to the summit of Hochwechsel. The tour however does not exactly follow the route of the Alpannonia® stage 2 but uses a slightly modified version via the Studentenkreuz and then the Vorauer Schwaig, bypassing the Steinerne Stiege and the Niederwechsel and ascent directly to the Hochwechsel. The tour then follows the route of the Alpannonia® trail (see red logo) downwards to Kranichberger Schwaig. After a well-deserved break, the tour continues following the marked trail first to Feistritzsattel. A few meters after the Feistritzsattel the tour then follows the Alpannonia® alternate stage 1 towards Semmering, first via the Fröschnitzsattel and then up to the Erzkogel. The tour then leads southwest towards Semmering and then down to the Semmeringpass till reaching the train station of Semmering.

This tour is best reachable via public transportation, first train to
Aspang Markt
and then via the bus
line 371
to
Mönichkirchen / Hotel Thier
. The tour ends at the train station
Semmering
with direct connections back to Vienna or other bigger cities.
Tour Description
| | |
| --- | --- |
| 00:00 | Start at the bus station Mönichkirchen / Hotel Thier and first follow the street up towards the ski resort (around the church, follow the red Alpannonia® logo). |
| 00:05 | Follow the trail through the Jenseits park which leads to the valley station of the chair lift. |
| 00:07 | Follow the street on the right hand-side of the valley station (see the red Alpannonia® logo). |
| 00:15 | At the crossing, turn left and follow the gravel road crossing the ski slope. |
| 00:20 | Turn left into the trail 924 through the forest towards Studentenkreuz. |
| 00:35 | At the Studentenkreuz, turn slightly right and follow the blue marked trail (forest road) westwards. |
| 00:50 | At the crossing, turn left (leave the blue marked trail) and follow the trail towards Vorauer Schwaig (see signpost). |
| 01:45 | Pass by the Vorauer Schwaig and continue following the red-white-red marked trail towards Hochwechsel (see signpost). |
| 02:30 | At the crossing, turn left into the Alpannonia® trail and follow the trail up to Hochwechsel. |
| 02:50 | Well deserved break () at Wetterkogelhaus. |
| 03:10 | Continue following the Alpannonia® trail northwestwards towards Vorauer Schwaig (see signpost). |
| 03:30 | At the crossing, keep right and follow the forest road northwards. |
| 03:55 | At the crossing, turn left and follow the Alpannonia® trail northwards. |
| 04:00 | Well deserved break ( ) at Kranichberger Schwaig. |
| 04:45 | Follow the Alpannonia® trail westwards, passing by the Bärenlacke lake towards Feistritzsattel. |
| 05:10 | At the crossing, keep left and continue following the trail towards Feistritzsattel. |
| 05:25 | At the crossing, turn right into the small trail towards Feistritzsattel. |
| 05:30 | When reaching the street, turn right, cross the street and then use the trail on the opposite site of the street (left hand-side). |
| 05:40 | At the crossing (between the two alternatives of the Alpannonia® trail), keep right and follow the marked trail towards Semmering (see signpost). |
| 07:10 | At the crossing, first stay straight heading towards the mountain rescue hut and then follow the trail on the left hand-side steeply up towards Sonnwendstein / Erzkogel. |
| 07:20 | Follow the forest road upwards north towards Erzkogel. |
| 07:30 | Turn left (2x) and follow the trail up to the summit cross of Erzkogel. |
| 07:35 | Enjoy the view from Erzkogel, obviously best enjoyed with a self-brought refreshment (). |
| 07:45 | Hike back north towards Sonnwendstein for a view meters and then turn left into the forest road towards Semmering (follow the Alpannonia® logo!). |
| 08:15 | At the crossing, keep straight and follow the trail (ski slope) up to Semmering / Hirschenkogel. |
| 08:20 | Well deserved break ( ) at Liechtensteinhaus (and a potential detour towards the viewing platform of Hirschenkogel). |
| 09:25 | Follow the slope back down (keep right), next to the mountain kart track. |
| 09:30 | At the crossing, turn left and follow the forest road downwards. |
| 09:55 | U-turn at the Enzianhütte and continue following the forest road downwards. |
| 10:05 | Hike around the lake and find your way to the main road with its roundabout. |
| 10:08 | Turn right at the roundabout and take the first street on the left towards the train station. |
| 10:10 | Keep straight and follow the trail north towards the train station. |
| 10:20 | Turn right and use the trail towards the train station of Semmering. End of the tour. |


At a glance
Level
difficult
Technique
Shape / Fitness
Experience
Scenery
Best time in the year

Jan

Feb

Mar

Apr

May

Jun

Jul

Aug

Sep

Oct

Nov

Dec
Tour Diary