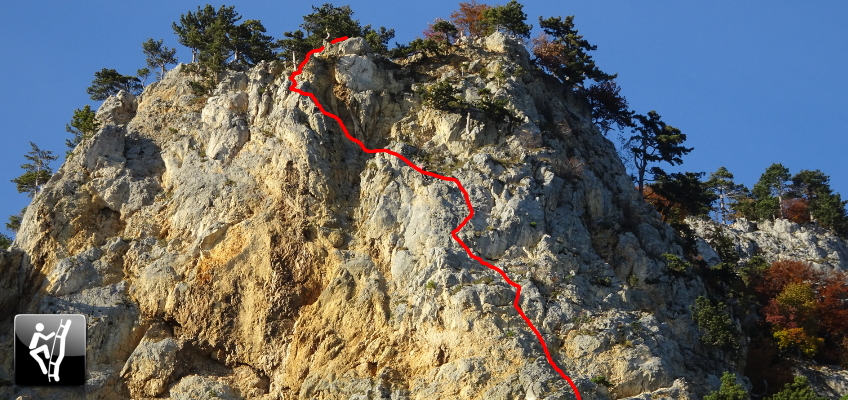 Climb up the Hohe Wand via the demanding Gebirgsvereinssteig (D), combine it with the existing Steirerspur (C) and descent via the Springlessteig (A)
The tour starts at the parking Seiser Toni (GPS: 47.806149, 16.008561) and first follows the forest road east towards Gebirgsvereinssteig (GV-Steig). Following the blue-marked Wandfußsteig north-east. The entrance is after the Wenigerturm cliff, a distinctive cliff with yellow rocks that will be climbed during the tour. Put on the via ferrata set at the entrance and follow the well protected but steep and extremely exposed via ferrata up. The ferrata is separated into 14 segments (also visible marked on the ferrata in case of needing to call rescue services) and has three emergency exits (after 7, 9, 11).
The first part (1–7) is climbing up the very steep (vertical) Weningerwand and contains already a D part (4) which is however not the crux. The most difficult part is between 5 and 6, a slippery, sloped and extremely exposed traverse with no grip and no steps*.

* At this point, the D part has been passed and a turning around is extremely difficult. This part really requires strength and boldness and often causes climbers to block and causing a queue (exposed to sun and heat). Not seldom, they need to be rescued by a helicopter (comes with extreme costs)!
The middle part (8–11) starts with a rope-way bridge (can be bypassed), followed by a exposed hang glider that leads to another nearly vertical cliff to be climbed. After mastering the middle part, the Kyselak rest area invites for a small break.
The third part (12–14) is a mixture of climbing on an exposed traverse (C, C/D) towards the overhanging headwall (D) which then leads towards the exit of the ferrata.
After mastering the GV-Steig, follow the trail on the right hand-side that leads to the Hubertushaus hut, a good place for a short break. Continuing east-wards on top of the ridge, after a couple of meters the entrance to the Steirerspur via ferrata (C) is reached (the entrance is FURTHER behind the exit!). First climb downwards (A, A/B) till reaching a traverse (B/C). Be careful, the crossing towards the exit is behind a cliff and mostly not seen (the via ferrata also continues straight but as an emergency exit), turn right there and follow the channel upwards (C) till reaching the exit, close to the Hubertushaus.
After a refreshing break at the Hubertushaus, the Springlessteig (begin is in front of the Hubertushaus) is used for descending which leads back to the parking.
Please note that a full "Klettersteigset" (via ferrata set) is mandatory for this tour!
This tour is absolutely not suitable for beginners!

Tour Description
| | |
| --- | --- |
| 00:00 | Start at the parking at Seiser Toni (GPS: 47.806149, 16.008561) and follow the (forest) street heading towards east (street name Theresia Stollen). |
| 00:08 | At the crossing, turn left and follow the small trail upwards towards Gebirgsvereinssteig. |
| 00:11 | Cross the forest road and stay on the small trail upwards. |
| 00:15 | Keep right and follow the blue marked tail (Wandfußsteig). |
| 00:18 | Keep left and head towards the entrance of Gebirgsvereinssteig |
| 00:20 | At the entrance, put on your via ferrata set. |
| 00:30 | Climb up the first part 1(B), turn right upwards to the first steep section (C) and then follow the easier trail 2 (A) towards the yellow rocks. |
| 00:40 | Short break using the shadow of the pine tree before entering the steep wall of Wenigerwand (C/D 3, D 4, B/C 5). |
| 01:00 | Master the crux (very exposed, slippery and sloped traverse with no real steps) before the Schneebergblick, between 5 and 6. |
| 01:05 | Follow the ridge around the corner upwards 6 (C) till reaching a nice rest area. |
| 01:20 | After a short break, follow the trail along the ridge (A/B) with a short descending 7 towards the rope-way bridge. |
| 01:22 | Cross the rope-way bridge 8(B) or bypass it using the trail on the right hand-side (which is also a potential emergency exit!). |
| 01:25 | Enter the second part of the ferrata towards the hang glider 9 (B) and the steep climbing of the following wall 10 (C/D). |
| 01:30 | Climb along the ridge 11 (B) till reaching the Kyselak rest area (also having the trail book). |
| 01:35 | Short break at the Kyselak rest area to regain energy for the last part. |
| 01:50 | Continue on the trail for the third and final part, a slab 12 (C/D), an exposed traverse with very few steps 13 (C). |
| 02:05 | Master the second crux, an overhanging and steep climb at the Headwall 14 (D). |
| 02:15 | At the exit, turn right into the trail towards the Hubertushaus hut. |
| 02:25 | Celebrate victory over the GV-Steig at the Hubertushaus and regain some energy ( ). |
| 03:35 | Continue on the trail eastwards and follow the small trail along the ridge (above) through the woods. |
| 03:42 | Turn right and follow the Steirerspur via ferrata downwards (A, A/B). |
| 03:50 | Follow the traverse at the Steirerspur (B – C). |
| 04:00 | At the crossing, turn right (upwards, hard to see and easy to miss!) and follow the ferrata upwards (C). |
| 04:05 | At the exit of the ferrata, turn left towards the Hubertushaus. |
| 04:06 | Celebrate victory over GV-Steig and Steierspur at the Hubertushaus (). |
| 04:40 | Follow the trail south of Hubertushaus downwards via the Springlessteig (A). |
| 04:55 | At the crossing, turn right into the Wandfußsteig and then follow the trail downwards at the next crossing. |
| 05:05 | Turn right and follow the forest road and then turn left downwards again at the next crossing. |
| 05:06 | Follow the trail back to the parking. |
| 05:20 | Back at the parking, end of the tour. |
General Tour Data
Area:
Wiener Alpen, Lower Austria, Austria
Distance:
4km
Ascent:
314m (1h 40min)
Descent:
318m (1h 00min)
Highest Pt:
975m
Lowest Pt:
707m
Duration:
3h 45min (without breaks)
5h 20min (with breaks)
Stop/Rest:
Hubertushaus (946m)
Equipment:
Via ferrata set incl. helmet
Hiking / Climbing shoes with good grip (on rock)
Backpack with standard hiking equipment
Snacks and plenty of water
Sun & Weather protection
Camera
Topo/Map:
Gebirgsvereinssteig (D)
Steirerspur (C)
Springlessteig (A)

At a glance
Level

difficult

– Via Ferrata Category

D

Technique
Shape / Fitness
Experience
Scenery
Best time in the year

Jan

Feb

Mar

Apr

May

Jun

Jul

Aug

Sep

Oct

Nov

Dec
Tour Diary
2020-10-28 10:00
| | | |
| --- | --- | --- |
| Weather: | | Sunny (perfect) |
| Participants: | | Stefan, Bernhard, Hans |
| Activity: | | Suunto |
| Comment: | | The tour can be extended by hiking towards the Eicherthütte and then descent via the Wagnersteig (read more…). |