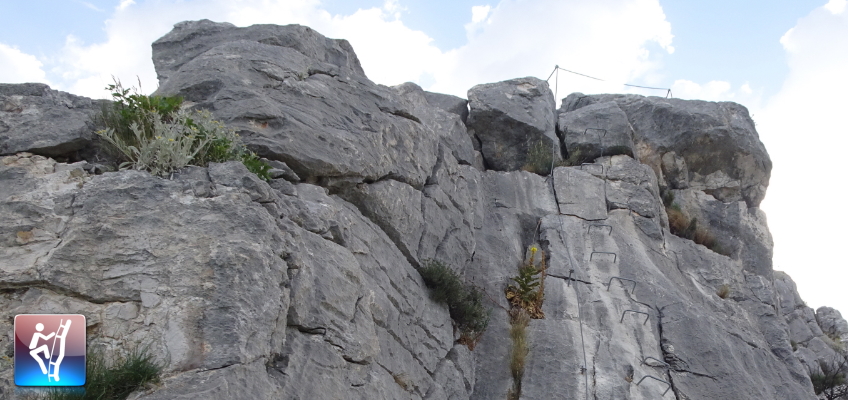 Climb up to Crkva sv Jure using the scenic and enjoyable Via Ferrata Perunika from Strožanac
This tour starts in Strožanac Gornji (GPS: 43.503180, 16.549208) with unfortunately no parking around (you might try to park the car somewhere along the road) and first follows the hiking trail eastwards up to the visible wall of Obloženica. The tour then follows the signposts Via Ferrata towards the start of the Via Ferrata Perunika. The tour then follows the relative easy but beautiful ferrata which provides amazing and scenic views towards the seaside but also have interesting and enjoyable climbing parts. At the top, the tour then crosses the plateau (no path!) towards the visible dirt road which is then followed in the opposite direction (southwards) till crossing with the hiking trail towards the church Crkva sv. Juraj. The tour then follows this hiking trail till reaching the church and its viewpoint that offers yet another stunning surround view on the seaside. The descent follow the normal hiking trail back to Strožanac, which crosses once again the start of the Via Ferrata.

Please note that a full via ferrata set is required for this tour!
Please note that this tour is very exposed to sun and there are no serviced huts on the way! Make sure you have proper sun protection and plenty of water with you and try to start early in hot summer months.

Tour Description
| | |
| --- | --- |
| 00:00 | Start at the end of the street in Strožanac Gornji (GPS: 43.503180, 16.549208) and follow the hiking trail up eastwards. |
| 00:05 | Cross the gravel road and continue following the marked hiking trail northwards. |
| 00:15 | At the crossing, keep straight (slightly left) and follow the wooden signpost towards Via Ferrata. |
| 00:20 | At the entrance of the Via Ferrata Perunika, put on your Via Ferrata set and follow the Via Ferrata upwards. |
| 00:45 | At the top, turn left and cross the stone fields towards the visible summit cross. Enjoy the amazing view from the summit, obviously best enjoyed with a self-brought refreshment (). |
| 01:00 | Find your way eastwards through the meadow on the plateau towards the visible gravel road. |
| 01:10 | Turn right and follow the gravel road eastwards for a few meter till reaching the crossing with the hiking trail. |
| 01:15 | Turn sharply left and follow the hiking trail northwestwards heading directly to the church. |
| 01:25 | Enjoy the amazing view from Crkva "sv Jure", best enjoyed with a self-brought refreshment (). |
| 01:35 | Follow the hiking trail back but turn right at the crossing after the church. |
| 01:45 | Pass by the entrance of the Via Ferrata Perunika and now follow the same way back as used for the ascent. |
| 02:00 | Back at the start, end of the tour. |


At a glance
Level

easy-moderate

– Via Ferrata Category

A/B

Technique
Shape / Fitness
Experience
Scenery
Best time in the year

Jan

Feb

Mar

Apr

May

Jun

Jul

Aug

Sep

Oct

Nov

Dec
General Tour Data
Area:
Podstrana, Croatia
Distance:
4km
Ascent:
364m (1h 00min)
Descent:
349m (0h 50min)
Highest Pt:
425m
Lowest Pt:
125m
Duration:
1h 40min (without breaks)
2h 00min (with breaks)
Stop/Rest:
None!
Equipment:
Via ferrata set incl. helmet
Hiking shoes with good grip (on rock)
Backpack with standard hiking equipment
Snacks and plenty(!) of water
2x "Gipfelbier" ()
Sun & Weather protection
Camera

Tour Diary