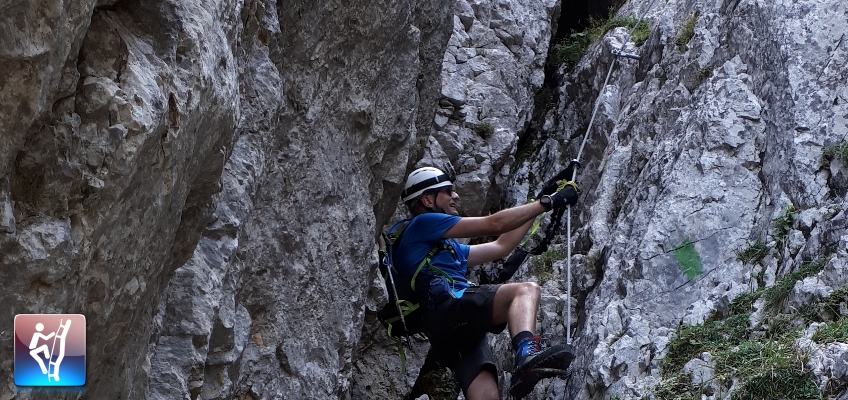 Climb up the Rax via the "Wildfährte & Bärenlochsteig"
This promising tour starts at Hinternaßwald (GPS: 47.738543, 15.666547) and leads up to the Habsburghaus at the Rax. The tour ascends using two via ferratas (both Cat. B) that offer awesome views and panoramic views. The via ferratas are fairly easy (cat. B, I-) but are sometimes exposed and therefore require a sure food and no fear from heights. After having a well-deserved break at the Habsburghaus, the tour descends via the Kaisersteig.
Please note that a full "Klettersteigset" (via ferrata set) is required for this tour!
Tour Description
| | |
| --- | --- |
| 00:00 | Start at the parking lot Hinternaßwald. The trail starts opposite of the small river (first following a tarmac road). |
| 00:10 | The tarmac road leads into a forest road. Follow the road. |
| 00:25 | At the crossing, first follow the road straight-ahead and then keep left (always next to the small river). |
| 00:30 | At the signpost (before the valley station of the cable car for goods), keep left and cross the river. |
| 00:35 | Follow the forest road (always straight-ahead). |
| 00:55 | At the end of the forest road, the Wildfährte trail starts on the right hand side via a streambed. Follow the trail marked white-red-white. |
| 01:05 | At the crossing, stay right on the Wildfährte (follow the white-red-white markings). |
| 01:25 | After crossing a scree slope and climbing up an easy rock, the via ferrata starts. Put on your via ferrata set ("Klettersteigset"). |
| 01:30 | Cross the traverse (Querung) and follow the trail. |
| 02:08 | At the crossing turn left into the Bärenlochsteig and follow the trail marked white-green-white. |
| 02:10 | The trail first descends. The part is protected via a fixed rope and iron bolts. |
| 02:30 | Enjoy the crux of the Bärenlochsteig, a chimney that is climbed via iron rungs. |
| 03:00 | The end of the Bärenlochsteig leads through a small cave / below a rock, called the Tor. You can put off your via ferrata set here during a short break (). |
| 03:15 | Follow the trail marked white-green-white till the crossing with Ochsenhaltweg. |
| 03:20 | Turn right and follow the Ochsenhaltweg (marked white-red-white) towards the Habsburghaus. |
| 04:00 | Well deserved lunch break at Habsburghaus (). Don't forget to pet the dog :-). |
| 05:00 | Descend via the Kaisersteig (follow the red-white-red markings). |
| 05:35 | At the crossing, stay on the trail (straight-ahead) and follow the red-white-red markings. |
| 06:17 | Back at the forest road and the crossing towards the Wildfährte. Follow the roads & trails back that was used for ascending. |
| 07:05 | Back at the car parking. |

At a glance
Level

easy-moderate

– Via Ferrata Category

B

Technique
Shape / Fitness
Experience
Scenery
Best time in the year

Jan

Feb

Mar

Apr

May

Jun

Jul

Aug

Sep

Oct

Nov

Dec
General Tour Data
Area:
Rax/Schneeberg Group, Lower Austria, Austria
Distance:
15km
Ascent:
1127m (3h 15min)
Descent:
1104m (2h 15min)
Highest Pt:
1786m
Lowest Pt:
712m
Duration:
6h 00min (without breaks)
7h 00min (with breaks)
Stop/Rest:
Habsburghaus (1785m)
Equipment:
Via ferrata set incl. helmet
Backpack with standard hiking equipment
Snacks and plenty of water
1x Gipfelbier
Sun & Weather protection
Camera
Topo/Map:
Wildfährte & Bärenlochsteig (B)
Tour Diary