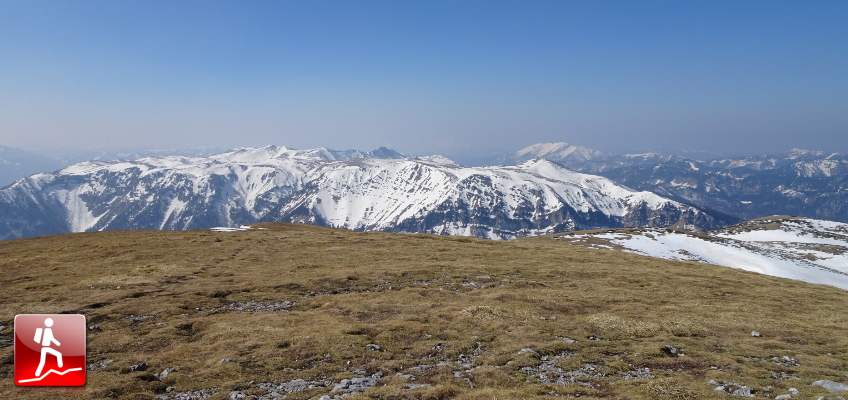 Hike up the Rax ("Predigtstuhl" & "Heukuppe") from "Preiner Gscheid" via the "Waxriegelsteig"
This tour leads up to the highest point of the Rax Plateau, namely the Heukuppe, starting from the Preiner Gscheid. The tour first ascents via the Waxriegelsteig up to the scenic Predigtstuhl (1899m) and then after a short break at the Karl-Ludwig Haus follows the trail towards the Raxkirchlein (small church) and then along the ridge to the Heukuppe (2007m) which is the highest point of the entire Rax plateau. The descent is done via the Schlangenweg.

Please note that the
Karl Ludwig Haus
is not open during the entire winter period (
click here for info
). It is therefore recommended to bring proper supplies.
Tour Description
| | |
| --- | --- |
| 00:00 | Start at the parking lot Preiner Gscheid (GPS: 47.676040, 15.723129) and follow the trail upwards (slope). |
| 00:05 | Turn right and follow the ski slope upwards (optionally you can follow the winded forest road that crosses the slope several times). |
| 00:25 | At the Gflotzhütte (building), keep straight follow the slope upwards (north). |
| 00:35 | At the crossing at Siebenbrunnenwiese, turn right and follow the forest road eastwards towards Waxriegelhaus (see signpost). |
| 00:40 | Turn left just before the Waxriegelhaus and follow the red-white-red marked trail towards Waxriegelkamm (see signpost, keep right at the ascent). |
| 00:45 | Pass by the Entenhügel and continue following the red-white-red marked trail upwards. |
| 01:05 | Turn around on the promontory and enjoy the scenic surround view. Continue following the red-white-red marked trail upwards (keep straight several times!). |
| 01:45 | At the crossing (signpost), turn left and follow the red-white-red marked trail westwards up to Predigtstuhl. Follow the ridge up to the summit of Predigtstuhl (no marked trails on the plateau but the summit cross is visible!) |
| 01:50 | Enjoy the impressive view from Predigtstuhl back into the valley. Best enjoyed with a self-brought refreshment (). |
| 02:00 | Follow the trail westwards down towards the Karl-Ludwig Haus. |
| 02:15 | At the Törl (crossing), keep straight ahead and follow the trail up towards Karl-Ludwig Haus. |
| 02:20 | Well deserved break ( ) at Karl-Ludwig Haus. |
| 02:45 | Follow the trail southwestwards towards the visible little church (Raxkirchlein) and then further towards the ridge. |
| 02:50 | Turn right and follow the trail along the ridge up towards the summit of Heukuppe. |
| 03:15 | Enjoy the awesome view from the highest point of Rax, the Heukuppe. Best enjoyed with a self-brought refreshment (). |
| 03:35 | Descend back to Karl-Ludwig Haus. At the saddle, keep left and use the direct way downwards. |
| 04:05 | Pass by the Karl-Ludwig Haus and this time keep right and descend via the Schlangenweg. |
| 04:30 | Turn left into the small trail and follow the trail that leads directly towards the Waxriegelhaus. |
| 04:35 | Well deserved break ( ) at the Waxriegelhaus. |
| 05:20 | Follow the trail south of Waxriegelhaus which leads back to the slope and further to the parking. |
| 05:45 | Arrival at the parking. This is the end of the tour. |

At a glance
Level

moderate

Technique
Shape / Fitness
Experience
Scenery
Best time in the year

Jan

Feb

Mar

Apr

May

Jun

Jul

Aug

Sep

Oct

Nov

Dec
General Tour Data
Area:
Rax/Schneeberg Group, Lower Austria, Austria
Distance:
12km
Ascent:
1062m (2h 45min)
Descent:
1062m (1h 45min)
Highest Pt:
2007m
Lowest Pt:
1074m
Duration:
4h 05min (without breaks)
5h 45min (with breaks)
Stop/Rest:
Karl Ludwig Haus (1804m)
Waxriegelhaus (1361m)
Equipment:
Backpack with standard hiking equipment
Snacks and enough water
Sun & Weather protection
Camera
2x "Gipfelbier" ()

If done in Winter:
Chains ("Grödeln") or crampons
In case hut is closed:
• Food
Cold-weather gear (Windstopper)
Tour Diary