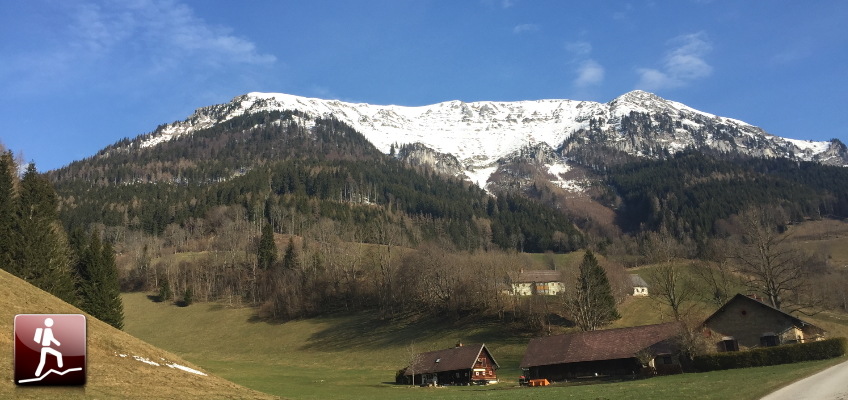 Nice winter hiking tour up to Schneealpenhaus via Hohe Nass, the Ameisbühel and the Schauerwand
The tour starts at the parking Nasskamm (GPS: 47.706643, 15.658779) and first follows the forest road upwards towards Kleine Nass. The tour then turns left and follows the trail up towards Schneealpe. After a steep ascent and some (easy) climbing part, the tour then follows the trail up towards Ameisbühel, allowing an exciting view towards the Ötscher. The tour then follows the trail towards Schauerwand, passing by the Lurgbauerhütte. After a short break, the tour then first descends and then follows the mountain road towards the Schneealpenhaus. The descent is done the same way like the ascent.


Please note that crampons are recommended for this tour when done in winter!

Tour Description
| | |
| --- | --- |
| 00:00 | Start at the parking lot Nasskamm (GPS: 47.706643, 15.658779) and follow the red-white-red marked forest road upwards (bypassing two gates). |
| 00:10 | At the crossing, turn left and follow the red-white-red marked forest road. |
| 00:33 | At the crossing, turn right but then use the small trail on the left hand-side up to Kleine Nass / Nasskamm. |
| 00:35 | At the crossing of Nasskamm, turn left and follow the trail towards Schneealpe (see signposts). |
| 00:50 | Cross the street and follow the small trail through the forest upwards. |
| 01:20 | Climb up the steep part and follow the trail towards Ochsenboden. |
| 01:50 | At the Ochsenboden, stay straight ahead and follow the trail towards Lurgbauerhütte. |
| 01:55 | Keep right and follow the trail up towards Amaißbichl / Ameisbühel. |
| 02:25 | At the top of Amaißbichl, follow the trail downwards towards the Lurgerbauer hut. |
| 02:35 | Pass by the Lurgerbauerhütte, continue straight ahead and follow the trail towards the summit cross of Schauerwand. |
| 02:50 | Enjoy the view from Schauerwand< / Schauerstein. The view is best enjoyed with self-brought refreshments (). |
| 03:00 | Follow the trail northwards passing by the Schauerstein towards the gravel road. |
| 03:15 | Turn left and follow the gravel road towards the Schneealpenhaus. |
| 03:40 | At the crossing, stay on the gravel road towards Schneealpenhaus. |
| 03:50 | At the crossing, keep left and turn into the trail towards Schneealpenhaus. |
| 04:00 | Well deserved break ( ) at the Schneealpenhaus. |
| 05:00 | Follow the same way back like the ascent. |
| 05:45 | At the crossing, keep straight and follow the trail directly to Lurgbauerhütte (skip Schauerstein). |
| 06:00 | At the Lurgbauerhütte, stay straight and descent directly (pass by Amaißbichl on its right hand-side). Follow the same trail like the ascent. |
| 07:45 | Back at the parking, end of the tour. |

At a glance
Level

moderate – difficult

Technique
Shape / Fitness
Experience
Scenery
Best time in the year

Jan

Feb

Mar

Apr

May

Jun

Jul

Aug

Sep

Oct

Nov

Dec
General Tour Data
Area:
Mürzsteger Alps, Styria, Austria
Distance:
18km
Ascent:
1052m (3h 30min)
Descent:
1053m (2h 55min)
Highest Pt:
1828m
Lowest Pt:
980m
Duration:
6h 55min (without breaks)
7h 45min (with breaks)
Stop/Rest:
Lurgbauerhütte (1764m)
Schneealpenhaus (1788m)
Please check the opening times of the huts! (closed in winter!)
Equipment:
Waterproof and warm Hiking shoes with good grip (on rock)
Crampons
Backpack with standard hiking equipment
Food/snacks and plenty of water
1x "Gipfelbier" ()
Sun & Weather protection
Camera
Tour Diary