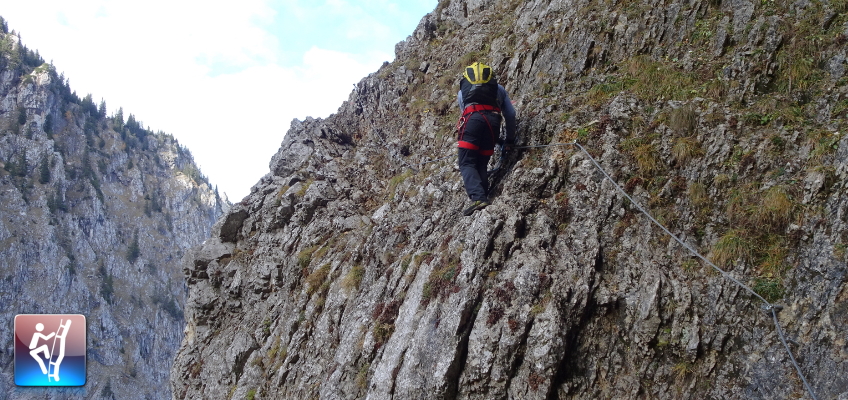 Climb up the Rax through the Höllental via the Hoyossteig (A/B), the Gustav-Jahn Steig (B) and the AV-Steig (B)
This tour combines three via ferratas located in the beautiful Höllental to climb up the Rax. The tour is long and the Gustav Jahn Steig is very exposed but allows stunning views throughout the Höllental. The descent is done fairly simply using the Rax cable car.
The tour starts at the small parking in front of the tunnel at the Höllental (GPS: 47.746355, 15.763405) where a small trail leads towards the Schönbrunnerstiege. Following a long hiking trail through the Höllental finally takes you to the crossing towards the Hoyossteig (via ferrata) which is then used to climb up towards the Klobentörl. Following the hiking trail downwards, passing by the Dirnbacherhütte. The tour then takes the Gustav-Jahn-Steig, a fairly exposed traverse that crosses into the upper part of the Alpenvereinssteig which is then used to climb up to the plateau.

This tour assumes the availability of two cars whereas the first car is parked at the valley station of the Rax cable car (end of the tour). The other car will be parked at Höllental, the starting point of the tour.
Please note that a full "Klettersteigset" (via ferrata set) is required for this tour!
Tour Description
| | |
| --- | --- |
| 00:00 | Start at the parking lot Höllental (before the tunnel, GPS: 47.746355, 15.763405). The trail starts opposite of the parking lot. |
| 00:01 | Follow the trail parallel to the street (keep right 2x). |
| 00:05 | Follow the Schönbrunnerstiege (iron stairs). |
| 00:07 | Follow the blue route through the Höllental. |
| 00:35 | Turn right at the crossing to Hoyossteig. |
| 01:05 | Turn right at the crossing (see markings on the ground!). |
| 01:10 | Put on the via ferrata set at the begin of the Hoyossteig. Follow the via ferrata upwards. |
| 02:15 | At the end of the via ferrata, follow the trail through the forest / alp plateau. |
| 02:35 | Short break at the crossing (best enjoyed with a self-brought refreshment (). |
| 03:00 | At the crossing, turn left and follow the trail towards Klobentörl. |
| 03:40 | At the crossing, turn left towards Dirnbacherhütte / Ottohaus. |
| 04:00 | Short break at the Dirnbacherhütte. It is not serviced, bring your own food (). |
| 04:25 | Continue on the trail and keep left at the next crossing (towards Gaislochsteig / Gustav-Jahn Steig). |
| 04:45 | At the crossing, turn right into the Gustav-Jahn Steig. |
| 04:55 | Follow the Gustav-Jahn Steig via ferrata (B). |
| 05:45 | Turn right into the Alpenvereinssteig by climbing up the long iron ladder. Follow the AV-Steig via ferrata (B) up to the top. |
| 06:10 | Short break at the Höllentalaussicht and its stunning surround view (perfectly enjoyed with a self-brought ). |
| 06:35 | Follow the trail (becomes a gravel road) southwards to Praterstern. |
| 06:55 | At the Praterstern, turn left and follow the gravel road back to the cable car mountain station. |
| 07:15 | Descend via the cable car to the parking. |

At a glance
Level

easy-moderate

– Via Ferrata Category

B

Technique
Shape / Fitness
Experience
Scenery
Best time in the year

Jan

Feb

Mar

Apr

May

Jun

Jul

Aug

Sep

Oct

Nov

Dec
General Tour Data
Area:
Rax/Schneeberg Group, Lower Austria, Austria
Distance:
14km
Ascent:
1504m (4h 20min)
Descent:
563m (1h 45min)
Highest Pt:
1654m
Lowest Pt:
563m
Duration:
7h 00min (without breaks)
8h 00min (with breaks)
Stop/Rest:
Gloggnitzer Hütte (1548m)
(check limited opening hours!)
Ottohaus (1644m)
Berggasthof Rax (1545m)
Equipment:
Via ferrata set incl. helmet
Backpack with standard hiking equipment
Food and enough water
2x "Gipfelbier" ()
Sun & Weather protection
Camera
Topo/Map:
Hoyossteig (A/B)
Gustav-Jahn Steig (B)
Alpenvereinssteig (B)
Tour Diary